We provide lawn and landscaping services for commercial and residential properties in Scottsdale, AZ.
You can count on our crew to nurture your lawn and spruce up your landscape!
The desert city of Scottsdale, AZ, in Maricopa County is a one-of-a-kind place that offers beautiful desert scenery and exciting attractions. In fact, Golfbreaks.com considers Scottsdale the best golf destination in the country, thanks to the city's desert and mountain landscape! Aside from golfing, Scottsdale also boasts one of the largest city parks in the country — the McDowell Sonoran Preserve. This nature preserve features over 225 miles of picturesque trails perfect for hiking, mountain biking, and horseback riding!
We get why property owners in Scottsdale, AZ, love this place. It's beautiful and exceptional! That's why we are happy to help residential and commercial property owners here take their properties to the next level with our lawn and landscaping services. Our team will nurture your lawn, spruce up your landscape, and take care of your trees with our various services, which include landscape design and build, yard care and maintenance, and tree and shrub care.
---
We design and build patios, walkways, driveways, and other hardscape and softscape features.
The key to transforming your outdoor space in Scottsdale, AZ, is to start with a good blueprint. We can work with you to create a landscape design that reflects your goals and vision for your outdoor area. There are various elements you can add to your property. You can have a patio where you can hold your events, and then match it with walkways and outdoor steps so you can safely walk around your outdoor space. If you want to boost your curb appeal, installing a custom driveway can help! Our team at Divine Design Landscaping can install these hardscape features and give you the outdoor space you've always wanted.
If your property is located on a slope and the uneven land makes it tough to complete your landscaping projects, we can install a retaining wall to hold the soil in place and give you more usable space on your property. With more space, you now have the opportunity to add a fire pit or an outdoor fireplace! These fire features will help you enjoy the beautiful nights in Scottsdale, as will our low-voltage LED landscape lights.
Adding color to your property is always a great idea, and what better way to do that than to install annual flowers that make your landscape look more lively? Our crew can also incorporate beautiful landscape beds into your landscape with our plantings and softscapes service.
Our artificial turf installation service will give you a low-maintenance lawn that stays green throughout the year!
---
Our Care & Maintenance Services for Your Lawn & Landscape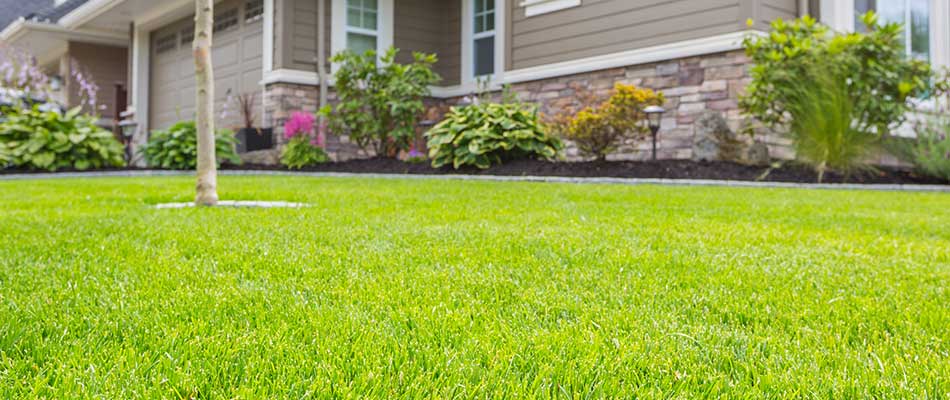 Our lawn fertilization service is designed to fulfill the needs of your lawn in Scottsdale, AZ. Whenever your grass looks like it needs a pick-me-up, we'll be there to nourish it with a slow-release lawn fertilizer that is chock-full of nutrients. We can also eliminate weeds from your turf with our weed control treatments! Our team offers core aeration, overseeding, and lime treatments, too. These lawn care services help your grass absorb more nutrients and maintain its tip-top appearance.
A well-maintained lawn and landscape can transform the visual appeal of your property. To keep your yard looking its best, we offer lawn and landscape maintenance services like lawn mowing, spring cleanups, and fall cleanups. We can also keep your landscape beds beautiful with our mulch and rock installation and landscape bed weed control services.
---
Our tree and shrub services include fertilization, disease and insect control, and more.
If your property in Scottsdale, AZ, is adorned with lush trees and shrubs, we will help you ensure they remain nice and strong year-round with our tree and shrub fertilization and disease and insect control treatments. These treatments foster healthy growth and protect your plants from damage-causing diseases and insects. We also provide trimming and pruning to keep them strong while maintaining their pristine aesthetics!
Sometimes, trees might need to be removed. Doing it by yourself is dangerous, but we're here to help! We provide tree removal and stump grinding services to completely remove trees from your property.
Keep your irrigation system working properly with our irrigation installation and repair services.
---
Call us today to schedule our lawn and landscaping services.
Our team at Divine Design Landscaping offers top-quality lawn and landscaping services to commercial and residential properties in Scottsdale, AZ. When you hire our team, you can expect that our focus is on giving you the property of your dreams. If you want nothing but the best for your home or business in Scottsdale, call us today at (602) 769-4564 to schedule our services.