We offer lawn and landscaping services to residential and commercial properties in Laveen, AZ.
Our services include lawn care, lawn and landscape maintenance, hardscape installations, and more!
Laveen, AZ, is a community in Maricopa County "where rural is a way of life." While recent developments have begun urbanizing this charming area, some nods to its rural history remain through farms and dairies. For example, Amadio Ranch is a well-known farm that offers fresh, local honey, produce, pies, pastries, and more! If you want more urban experiences, you can take a short trip to Phoenix and go to the Phoenix Zoo, Phoenix Art Museum, Desert Botanical Garden, and The Japanese Friendship Garden of Phoenix.
At Divine Design Landscaping, we offer professional lawn and landscaping services to residential and commercial properties in Laveen, AZ, and have been since 2012. Whether you need lawn care, lawn and landscape maintenance, or hardscape installation services, we offer them all, plus more!
---
Achieve a Healthy, Beautiful Lawn With Our Lawn Care Services
If you want a healthy, beautiful lawn, you've come to the right place! We offer a comprehensive list of lawn care services to give your turf everything it needs to thrive. We can supply it with essential nutrients, keep it weed-free, and improve its access to resources like sunlight, water, and air. We can even install sod for a new, verdant lawn in no time! Our lawn care services include the following:
---
We offer lawn and landscape maintenance services to properties in Laveen, AZ.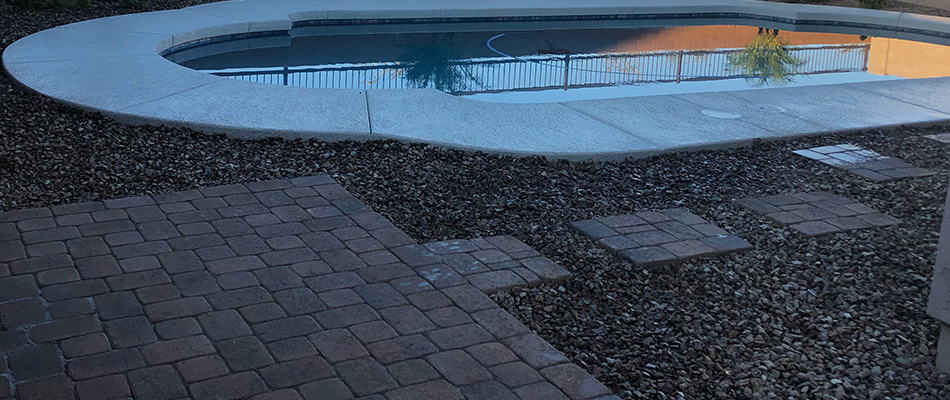 Nothing's better than a manicured, well-maintained lawn and landscape - and we're here to give that to you! We offer lawn and landscape maintenance services to keep your property in Laveen, AZ, looking its best year-round. We'll regularly mow your grass to keep it neat and healthy throughout the growing season. Meanwhile, we can add mulch or rock ground coverings to your landscape beds, then trim and prune your plants to ensure all your focal points are pristine. Here's a list of the maintenance services we offer:
---
Our Hardscape & Softscape Installation Services
Say hello to a stunning outdoor living space with our hardscape installation services! We use only top-quality materials to ensure your features remain eye-catching additions for years to come, from patios and driveways to retaining walls, outdoor steps, and much more! We can also install softscapes, plants, and flowers to add natural colors and life to your property in Laveen, AZ. Whatever your next landscape project is, we can design a 2D or 3D rendering so you can view it before installation begins. Our hardscape and softscape installation services are as follows:
---
We can fertilize, remove, and perform other services for your trees and shrubs.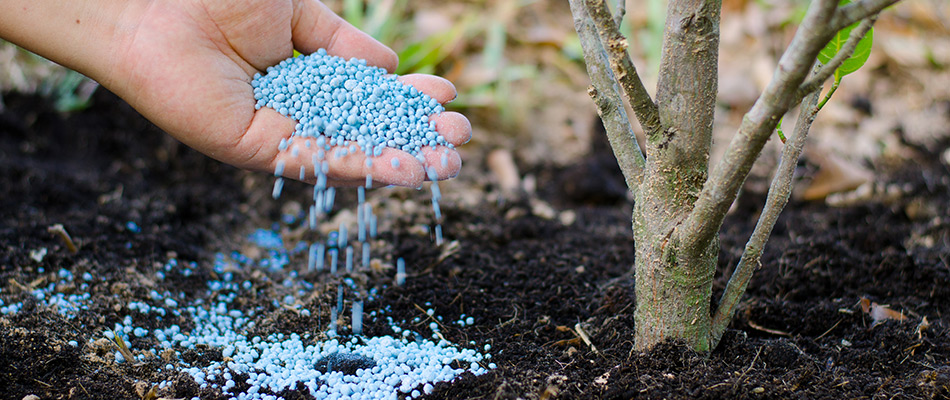 We can perform tree and shrub services for your home or business in Laveen, such as fertilizing them and applying treatments to eliminate plant diseases and insect infestations. If you want to remove a tree, we can do that too. Then, we can grind down the stump to ensure it's not dragging down your property's curb appeal.
---
Call to Sign Up for Any of Our Lawn & Landscaping Services
Our team at Divine Design Landscaping is the one to call for all your lawn and landscaping needs, from improving your turf's health and keeping it in tip-top shape to beautifying your landscape and elevating your outdoor living space with hardscapes. We offer our lawn and landscaping services to homeowners and business owners in Laveen, AZ. Call (602) 769-4564 to sign up for any of them today!