Fire Pit Installation Service in Phoenix, Laveen, Scottsdale, AZ & Nearby Areas
Whether you want a gas or wood-burning fire pit, we can make it happen!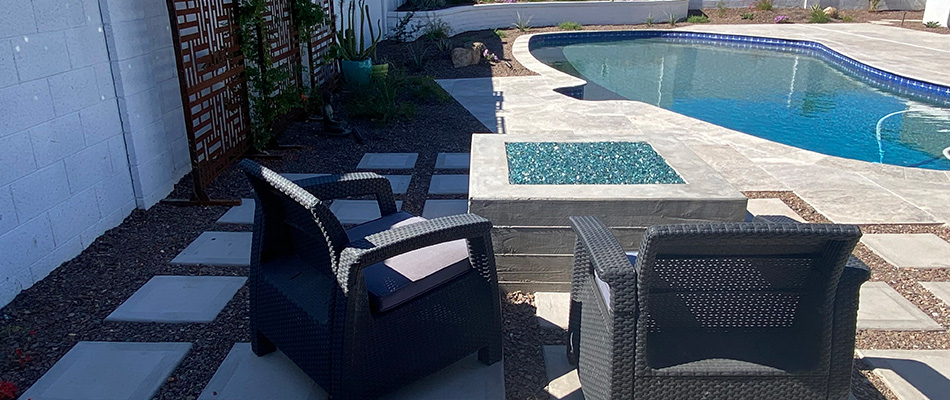 The best way to enjoy a beautiful starry night is by cozying up next to a fire pit. Our team at Divine Design Landscaping can help you do this by installing a gorgeous fire pit made with top-quality materials. We match the high quality of our materials with our attention to detail and expertise, making sure we build your fire pit to withstand extreme heat and the test of time. You can also choose whether you want a gas or wood-burning fire pit; each option offers unique benefits and the one you choose will come down to your personal preference!
Our team also offers a landscape design service that will help you envision how your fire pit will look before installation begins. If you own a commercial or residential property in Phoenix, Laveen, Scottsdale, or any nearby area in Arizona, our fire pit installation service is for you!
---
What materials do we use to build your fire pit?
When you hire our team to construct your fire pit, you can expect us to use high-quality materials to build this fire feature! We offer various materials to give you a hardwearing and sturdy fire pit, such as:
Blocks: Using blocks ensures your fire pit is made to last long since this material is durable and robust.
Stone: Stone is a durable material that will give you a long-lasting fire pit that also exudes a timeless charm.
Travertine: We typically use travertine on the top portion of your fire pit because it is heat-resistant, making it an ideal material for fire features. It is also a gorgeous material that will make your fire pit look more attractive!
Fire Blocks: Our team uses fire blocks inside the fire pit structure to ensure the other materials have an extra layer of protection from heat.
---
Choose Whether You Want a Gas or Wood-Burning Fire Pit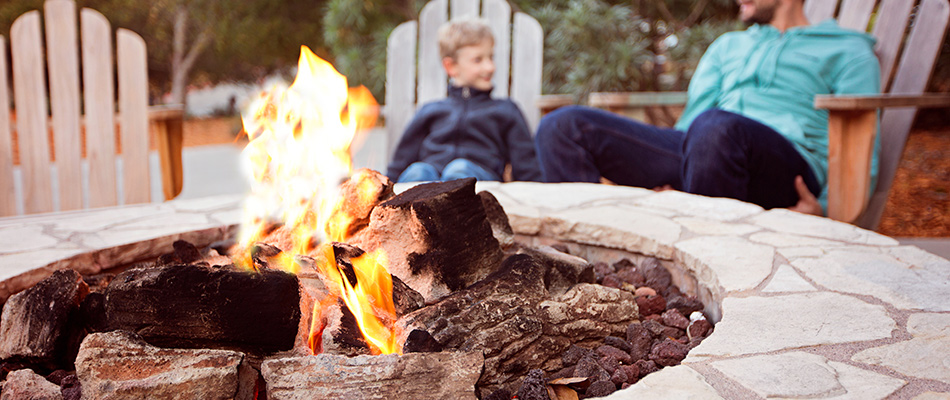 Your fire pit can either be gas-burning or wood-burning. Both options are great, and the decision depends on your preferences! A wood-burning fire pit offers quicker installation, the crackling sound of burning wood, and smoke from the wood that naturally deters mosquitoes. On the other hand, a gas-burning fire pit boasts convenience since you can start a fire with a simple push of a button. If you want a low-maintenance option, a gas-burning fire pit might work better since you don't have to clean up the ash and store wood after every use.
---
View Your Fire Pit Before Installation Begins With Our Landscape Design Service
The perks of viewing your fire pit before installation begins are endless, and we give you that chance with our landscape design service! We offer 2D and 3D design renderings, and you can choose which will best help you envision how it'll fit into your existing outdoor living space. That way, you can ensure you receive the fire pit of your dreams!
While our 2D design rendering will provide a flat, general layout of your fire pit, our 3D design rendering offers a realistic depiction with nearly accurate dimensions.
---
We'll turn the fire pit of your dreams into a reality with our fire pit installation service. Call us today for an estimate!
If you want to elevate the visual appeal of your property, adding a fire pit to your landscape is a great way to achieve that. Here at Divine Design Landscaping, we are happy to help turn the fire pit of your dreams into a reality with our professional fire pit installation service. From providing durable and beautiful materials to our unmatched attention to detail, you can rest assured your fire pit will be an exceptional feature in your outdoor area!
Our team offers this service to commercial and residential properties in Phoenix, Laveen, Scottsdale, AZ, and nearby areas. Give us a call today at (602) 769-4564 to get an estimate on our fire pit installation service.