Professional Lawn Care & Maintenance Services in Phoenix, Laveen, Scottsdale & Nearby Areas in Arizona
Our services include lawn fertilization, weed control, lawn mowing, fall cleanups, and more.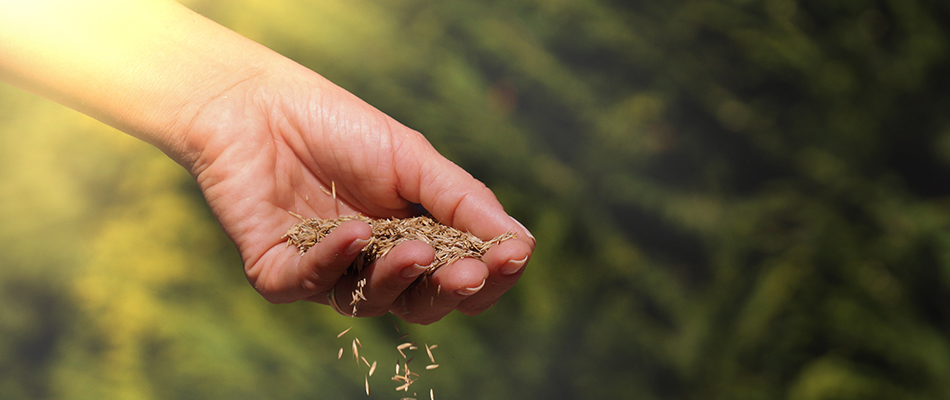 If you want to keep your lawn healthy and looking its best year after year, you've come to the right place! At Divine Design Landscaping, we offer professional lawn care and maintenance services to residential and commercial properties in Phoenix, Laveen, Scottsdale, AZ, and other surrounding areas. These services include lawn fertilization and weed control to keep your grass verdant and healthy. Meanwhile, we also offer lawn mowing, fall cleanups, and more to keep it manicured and well-maintained.
---
Lawn Fertilization

If your grass is struggling to stay healthy and green, our lawn fertilization service is just what you need. Nutrients are vital to improving your lawn, and we use granular fertilization treatments to deliver them gradually. That way, we don't cause additional stress, and your turf has a consistent supply over an extended period.

Weed Control

Not only are weeds a nuisance, but they're also an eyesore. Fortunately, we offer a weed control service to tackle any weed growth on your property. We'll apply pre-emergent weed control treatments twice a year, in March and July, to get ahead of weeds before they sprout. Some common ones we tackle include pigweed, desert broom, purple nightshade, tumbleweed, and more.

Core Aeration

Because of the desert conditions in our area, soil compaction is nearly inevitable. However, it hinders your turf's access to essential nutrients and resources, including sunlight, water, and air. Now enter our core aeration service, where we'll pass over your lawn once with our aerator to pull up plugs of soil and effectively loosen compaction. This process also creates passageways for resources to reach the roots of your grass.

We offer our core aeration service in the spring and fall.

Overseeding

Most of the lawns in our area have either ryegrass or bermudagrass, and both can benefit from our overseeding service. Because ryegrass struggles in the summertime heat, we can spread seeds in October and the winter to fill bare and patchy areas with new, healthy grass growth. Meanwhile, we'll overseed bermudagrass in the summer to thicken it and set it up for a successful season.

Lime Treatment

While alkaline soil is a common issue in Arizona, it'll hinder your turf's nutrient uptake. Because of this, we offer lime treatments to correct its pH, balancing it out so your soil can better absorb the nutrients and resources it needs.

Lawn Mowing

We offer a lawn mowing service to keep your grass at an ideal height all year, and you can choose between weekly or bi-weekly intervals to best suit your needs. But wait, there's more - not only will we mow the grass, but we'll also string-trim, edge, and blow debris off your hardscapes for a clean, manicured appearance after every visit.

We rotate our mowing patterns to avoid causing ruts in the lawn and the grass to lean in one direction.

Spring Cleanup

Prepare your lawn and landscape for the new growing season with our spring cleanup service! This service includes lawn mowing, landscape bed reshaping, plant trimming, and debris removal.

Fall Cleanup

Your landscape will require a much-needed touchup after the summer, so what better way to do that than with our fall cleanup service? When you sign up, you can expect us to mow your lawn, reshape your landscape beds, trim your plants, and remove debris. If that's not enough, these cleanups also include leaf removal so you can take this dreaded chore off your to-do list this fall.

Sod Installation

Establish a new, beautiful green lawn immediately with our sod installation service! We'll thoroughly prep the site, removing debris and weeds before smoothing the soil. Then, we'll install the sod and use a roller to ensure it's even and looks like it's been there the entire time.

Artificial Turf

Artificial turf is a low-maintenance lawn option that stays beautiful all year long. Whether you want to replace your entire lawn or create a designated space for practicing your golf swing, we can install artificial turf for any reason on your residential property!
---
Sign up for our lawn care and maintenance services today.
From lawn fertilization, weed control, and core aeration to lawn mowing, yard cleanups, and sod installation - we offer all the lawn care and maintenance services you'll need to achieve your dream lawn! Our team at Divine Design Landscaping services homes and businesses in and around Phoenix, AZ, including Laveen and Scottsdale. Call us today at (602) 769-4564 to sign up!