We offer lawn and landscaping services to residential and commercial properties in Glendale, AZ.
Our team has been transforming homes and businesses since 2012.
Glendale, AZ, is a city located in Maricopa County that has a population of more than 249,000 people. One of the great things about this dynamic city is that it is home to Luke Air Force Base, which houses the world's largest fighter wing! Glendale also boasts a lot of recreational options for people of all ages, like Sahuaro Ranch Park. This park is known as the Showplace of the Valley and is listed on the National Register of Historic Places.
Since there are so many things to do in Glendale, it's no wonder why home and business owners here love the area. We do too! Our team at Divine Design Landscaping provides top-of-the-line lawn and landscaping services for commercial and residential properties in Glendale, AZ. Our services include landscape installation, lawn care and maintenance, tree care, irrigation installation, and more. We've helped property owners here take their properties to the next level since 2012 and are excited to transform your property next.
---
Our Landscape Design & Build Services Include Hardscape & Softscape Installation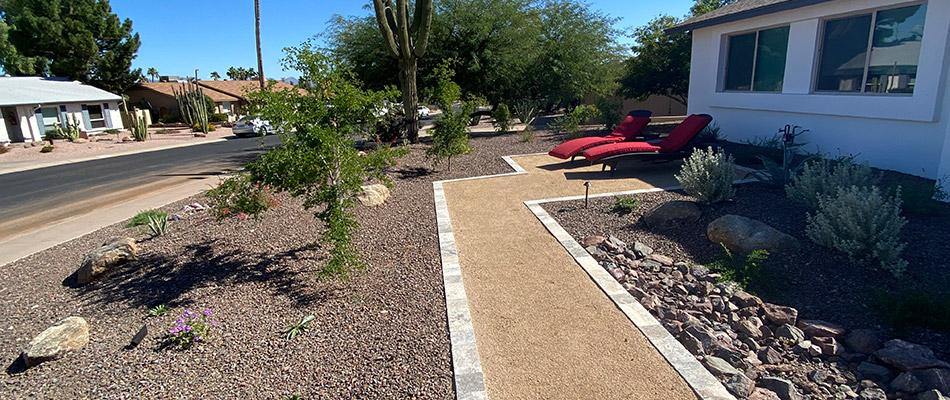 If you want your property in Glendale, AZ, to stand out in your neighborhood, upgrading your outdoor space with a new landscape installation is a great option. Fortunately, that's one of the things our team does best! When you sign up for our landscape design and build services, we can install softscapes and hardscapes that will elevate your home or business. Our team has the ability to install landscape beds and accentuate them with vibrant annual flowers to give them pops of color. Or, we can make your outdoor living area cozier by adding a patio, fire pit, or fireplace where you can host gatherings. Here are all the design and build services we offer:
If you want a lush, vibrant lawn without all of the maintenance, we can install artificial turf on your residential property!
---
We cultivate and maintain healthy, beautiful lawns with our lawn care and maintenance services.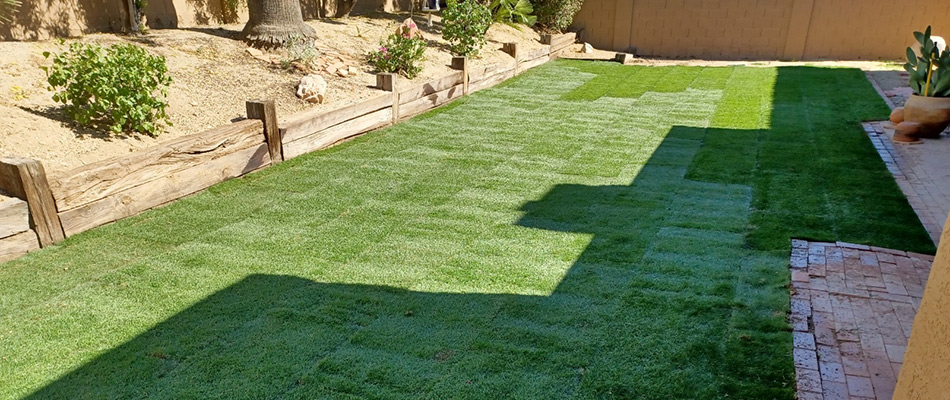 Our team provides lawn care services designed to cultivate a healthy lawn that will help boost the curb appeal of your property. From giving your grass fertilizer that contains vital nutrients to tackling invasive weeds that can weaken your turf, we work tirelessly to keep your grass in tip-top health throughout the year in Glendale, AZ. We can also maintain the beautiful, pristine aesthetics of your grass and plants through our lawn and landscape maintenance services, such as lawn mowing and yard cleanups. Our team will keep your lawn and landscape healthy and looking beautiful with the following care and maintenance services:
---
We offer tree and shrub fertilization, disease and insect control, removal, and stump grinding services.
Our team will give your trees and shrubs some much-needed TLC to help them flourish. We'll provide them with the nutrients they need to become robust through fertilization treatments and keep them free of any diseases or insects through our tree and shrub disease and insect control treatments. If your trees are either too damaged or are in the way of a project, we can remove them and grind the leftover stumps.
---
Our Irrigation Services Include Irrigation Installation & Repairs
An irrigation system ensures efficient water delivery to your grass and landscape plants. At Divine Design Landscaping, we can install an irrigation system that works to meet the needs of your vegetation! This way, your lawn and plants in Glendale, AZ, will remain sufficiently hydrated throughout the year. If your irrigation system is malfunctioning, we can diagnose the issue and get it back to full speed with our repair service.
---
Give us a call to schedule our lawn and landscaping services.
Our team at Divine Design Landscaping provides top-notch lawn and landscaping services for commercial and residential properties in Glendale, AZ. We have 11 years of experience improving properties! When you hire our team, you can rely on us to provide the best service and give you the results you want for your home or business. If you want to transform your property, call us today at (602) 769-4564 to schedule our services.