Expert Lawn & Landscaping Services for Residential & Commercial Properties in Paradise Valley, AZ
We offer lawn care, lawn and landscape maintenance, and hardscape installation services.
Few cities offer exclusive, luxury living more than Paradise Valley, AZ. This affluent town is a suburb of Phoenix located in Maricopa County, with over 12,600 people calling it home. Paradise Valley is rich in all the amenities you could ask for, including several golf courses, resorts, and artsy hot spots like Cosanti Originals; this now historic site is a gallery showcasing the work of world-renowned architect Paolo Soleri. However, you can also find beautiful, natural scenery and sweeping mountain ranges here, including Camelback Mountain and Mummy Mountain.
If you own a residential or commercial property in Paradise Valley, AZ, our team at Divine Design Landscaping can take it to the next level with our expert lawn and landscaping services. We offer everything you'll need to showcase the beauty of this desirable area on your property, including lawn care, lawn and landscape maintenance, and hardscape installation services.
---
Give your lawn the TLC it deserves with our lawn care services.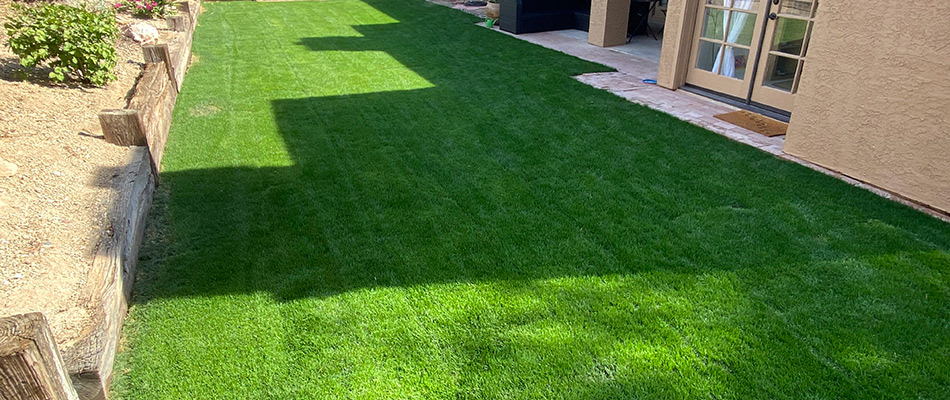 Keeping your lawn healthy and verdant is a lot of work, but you don't have to shoulder this job on your own! We can give your turf the TLC it deserves with the following lawn care services:
Lawn Fertilization: We'll use granular fertilization treatments to give your grass a gradual supply of nutrients over an extended period.
Weed Control: We'll apply pre-emergent weed control treatments twice a year, in March and July, to prevent weeds like desert broom, pigweed, goosefoot, and purple nightshade from surfacing on your property in Paradise Valley.
Core Aeration: We offer a core aeration service in the spring and fall to loosen compacted soil and improve nutrient access to your lawn's roots.
Overseeding: Whether you have a lawn with ryegrass or bermudagrass, both can benefit and become thicker with our overseeding service.
Lime Treatment: Our lime treatments will balance your soil's pH and improve its ability to absorb nutrients.
Sod Installation: If you want to establish your new lawn with beautiful, green grass immediately, our sod installation service is for you!
---
Our Lawn & Landscape Maintenance Services Will Keep Your Property Pristine & Manicured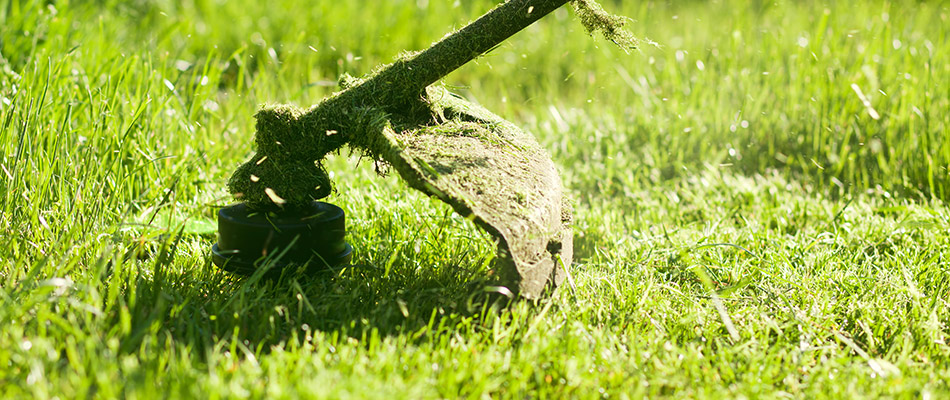 Lawn and landscape maintenance is vital to improving your property's curb appeal, and we offer the following services to do just that:
Rock Installation: Some popular rocks we can install on your property include Madison Gold, table mesa brown, and desert verde.
Mulch Installation: We can install mulch to provide numerous benefits to your landscape beds.
Landscape Bed Weed Control: We'll apply post-emergent weed control treatments and hand-pull any weed growth in your landscape beds.
Lawn Mowing: We offer a weekly or bi-weekly lawn mowing service to keep your grass pristine and manicured throughout the growing season.
Spring Cleanup: Our spring cleanup service includes lawn mowing, landscape bed reshaping, plant trimming, and debris removal.
Fall Cleanup: Prepare your landscape for the winter with our fall cleanup service, where we'll mow your lawn, reshape your landscape beds, trim your plants, remove debris, and clean up leaves.
Trimming & Pruning: We offer a trimming and pruning service to enhance the natural shape of your plants and keep them healthy.
We offer irrigation services to property owners in Paradise Valley, AZ, including system installations and repairs.
---
Complete your outdoor living space with hardscape features and softscapes.
With beautiful weather nearly year-round here in Arizona, your outdoor living space gives you a place to enjoy it. Fortunately, we can complete it by installing hardscape features! We can also install softscapes, eye-catching flowers, and even artificial turf!
Landscape Design: We can design a 2D or 3D design rendering of your next landscape project so you can view it before installation begins.
Plantings & Softscapes: We can install stunning, new landscape beds or renovate your existing ones for a fresh look.
Annual Flowers: Some popular annual flowers we can add to your landscape beds are geraniums, pansies, and vincas.
Landscape Lighting: Brighten your outdoor living space after the sun goes down with landscape lighting.
Patios: We offer various paver and stone material options to build the patio of your dreams!
Walkways: We can install a walkway to make it easier to traverse your property.
Driveways: Say goodbye to your old, average driveway and say hello to a stunning new one with our driveway installation service.
Outdoor Steps: Outdoor steps will make it more convenient to navigate elevation changes on your property.
Fire Pits: If you want a natural gas or wood-burning fire pit for your outdoor living space, we're the ones to call!
Outdoor Fireplaces: We can install a beautiful outdoor fireplace to create a more private fire-side experience.
Retaining Walls: We offer a retaining wall installation service to remedy soil erosion, and we'll use top-quality materials that'll withstand the test of time.
Artificial Turf: Artificial turf is a low-maintenance lawn option that stays pristine and green year-round.
---
We Offer Tree & Shrub Services to Property Owners in Paradise Valley, AZ
Here at Divine Design Landscaping, we offer various tree and shrub services to property owners in Paradise Valley, AZ, which are as follows:
Tree & Shrub Fertilization: We use fertilizer spikes and granular treatments to give your trees and shrubs the nutrients they need to thrive.
Tree & Shrub Disease & Insect Control: We offer disease and insect control treatments to tackle infections and insect infestations on your plants.
Tree Removal: If you want to remove a tree from your property, our tree removal service is just what you need.
Stump Grinding: We'll grind your stump down and haul away the debris.
---
Call us to schedule our lawn and landscaping services today.
Whether you want to keep your lawn healthy, spruce up your landscape, install a hardscape feature, or anything in between - we're the company to go to for it all. We offer a comprehensive list of lawn and landscaping services to homeowners and business owners in Paradise Valley, AZ. Call us at (602) 769-4564 to schedule any of them today!