If you're looking to install a durable and long-lasting patio on your property in Arizona, then you should use pavers to construct it! Pavers are highly durable, low-maintenance hardscape materials that can last for decades if properly installed. They also require little maintenance to keep them looking their best since they don't easily crack or break like other materials do. What's more, if one of your pavers breaks or cracks, you can easily repair it without having to rip up your entire patio. Pavers are also available in numerous shapes, sizes, and colors, and can be installed in various patterns, allowing you to create a patio that's as unique as you are! With so many benefits and advantages, pavers are the key to a durable and long-lasting patio.
---
Pavers are highly durable and will last for years with proper installation.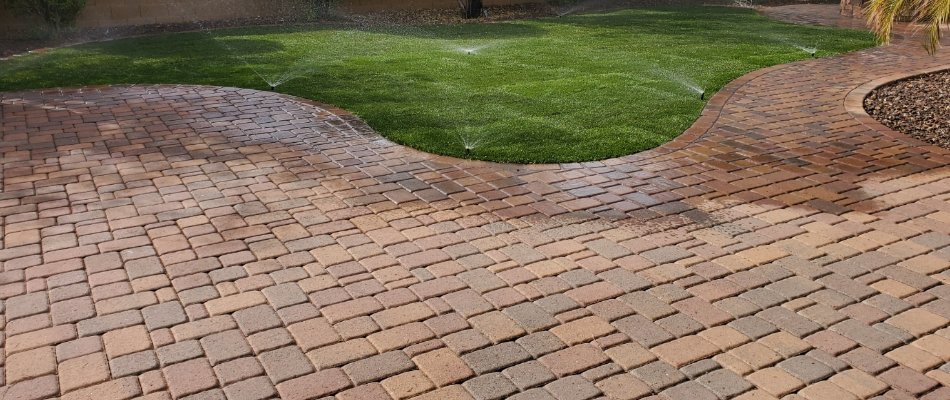 When installing a new patio, you want to make sure that you choose a material that is going to be both durable and long-lasting. Well, that's where pavers come in! Pavers are highly durable, especially when installed correctly. A well-installed paver patio should hold up against natural elements such as rain, wind, and even extreme temperatures throughout the year. That's why you can expect these types of patios to last for years to come with minimal upkeep.
---
Pavers are low-maintenance and easy to clean.
One of the biggest advantages of using pavers when building a patio is how low-maintenance they are. Unlike other patio materials that need constant cleaning and upkeep, pavers are extremely low-maintenance and easy to clean. All you need to do is sweep or hose off your pavers every once in a while to remove any dirt or debris buildup. You won't have to spend hours upon hours scrubbing at your patio to get it back to its original condition. This makes pavers an ideal option for busy property owners who simply don't have the time to constantly maintain their patio.
---
You can easily repair broken or cracked pavers because you can replace a single paver instead of ripping out the entire patio.
Another great reason to use pavers when constructing your patio is that they are easy to repair. If one of your pavers breaks or cracks, all you have to do is replace it rather than having to rip out your entire patio! In most cases, a broken or cracked paver can be removed and replaced with a brand-new one. So, you shouldn't have to worry about needing to completely redo your patio just because there was a problem with a few of your pavers.
---
A patio built with pavers can be constructed in various pattern options.
One of the biggest advantages of using pavers for your patio is that they are highly versatile. Not only are they available in a wide array of colors, sizes, shapes, and textures, but they can also be arranged in different design patterns to create unique and eye-catching designs. Whether you prefer a simple pattern or a more intricate design, pavers give you total freedom to create the patio of your dreams.
Some popular paver patterns that are used when constructing patios include herringbone, basket weave, running bond, and stack bond.
---
Give us a call today to schedule our patio installation service.
If you're looking to have a durable, long-lasting patio installed on your property, we are the team to turn to. We can install paver patios that can be customized to fit your aesthetic preferences and landscape design goals. We provide our patio installation service to commercial and residential properties in Phoenix, Laveen, Scottsdale, AZ, and surrounding areas. Give us a call today at (602) 769-4564 to schedule a consultation with our experts and take the first step towards creating a stunning new patio!