If you are planning on having a new patio installed on your property in Arizona, consider using pavers. Pavers are durable, long-lasting materials that can be used to create a beautiful patio. When it comes to installing the pavers, there are various patterns to choose from, so you will want to pick a pattern that meets your aesthetic goals. Four popular paver patterns to consider using are basketweave, running bond, stack bond, and herringbone paver patterns. Each of these patterns has its own unique benefits, so the choice will come down to your personal preference. Continue reading this blog to learn more about these paver patterns so you can choose the option that will meet your aesthetic needs.
---
Basketweave is a timeless paver pattern that offers a unique look.
When it comes to choosing a pattern for your new patio, one of the most popular patterns is the basketweave pattern. This timeless design features alternating rows of vertical and horizontal pavers, creating an intricate, yet elegant, pattern that mimics the woven pattern of baskets. This timeless design is perfect if you want to give your patio a unique look that will make it stand out!
---
Running bond is a simple but stylish paver pattern.
Another popular paver pattern that you can use for your patio is running bond. As the name suggests, this pattern involves running the pavers horizontally along the surface, with each row offset by half its length, creating a staggered layout that creates a clean appearance.
---
Stack bond gives your patio a sleek, modern appearance.
Another paver pattern that you might want to consider for your new patio is stack bond. This type of pattern is very straightforward and easy to understand. It consists of pavers being stacked on top of one another to create uniform rows. When looking at the layout of the pavers from above, you will see a grid formed by the lines created by the stacked pavers. This pattern is popular because of its simplicity and timeless appeal.
---
Herringbone is a visually striking paver pattern that stands out.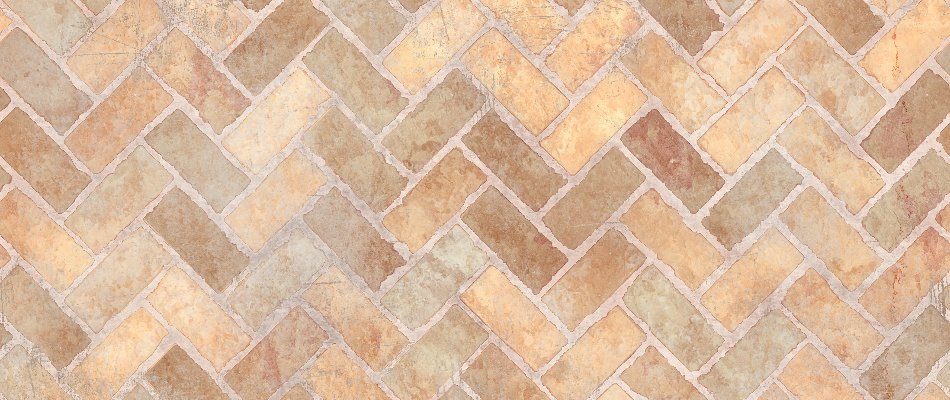 Another unique paver pattern that you can use for your patio is the herringbone pattern. This design consists of alternating rows of pavers that slant either 45 degrees or 90 degrees, creating a zigzag pattern that adds visual interest to the space. It's a visually striking design that stands out, making it a great choice if you want something different from the traditional layouts.
The herringbone pattern got its name because it resembles the bones of a herring fish!
---
Give us a call today to schedule our patio installation service.
At Divine Design Landscaping, we can help you achieve the patio of your dreams with our top-tier patio installation service! We offer a variety of paver options, allowing you to select the ones that best suit your tastes and needs. Whether you want to use a classic basketweave pattern, a modern running bond pattern, a classic stack bond pattern, a unique herringbone pattern, or anything in between - we got you covered! Our professionals will work tirelessly to ensure your patio meets your expectations, whether it is a basic setup or something more elaborate. With 11 years of experience under our belt, you can trust that we have the skills and knowledge to get the job done right!
We offer our patio installation service to residential and commercial property owners in Phoenix, Laveen, Scottsdale, and throughout the surrounding areas in Arizona. Give us a call today at (602) 769-4564 to schedule a consultation for this service! We look forward to helping you get the patio of your dreams!